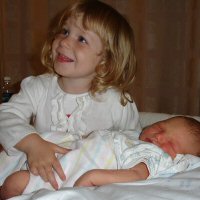 My wife insisted that we see Dorota after unsuccessfully trying to conceive for 3 years. In the end we even saw an IVF specialist but my wife didn't like the idea of the hormone treatments. Dorota was recommended so along I went with my wife for a consultation.
I was forty then and my wife 33 years old, Dorota of course saw hope for a healthy baby and put us on a supplements regime for about 7 months supported with proper diet. It was pretty hard to say good bye to certain foods and the wine club as alcohol was a definite NO for us. She promised us a beautiful baby in the end and this is what we got. We are sure Dorota's supplements made her a calm and happy baby that sleeps through the night.
She is now 5 months old and I celebrated her birth with Dom Perignon (and many other bottles). Soon the time will come when we'll be ready for our next baby and needless to say that we will be back in Dorota's office and embark once more on the not so long road of healthy preparations to conceive an other perfect child. She is a warm and kind person who believes in success through determination. She believes so you'll believe too.Cheers, (*)
A.K, Maroubra
Read more on Preconception Care
Read more on Male Fertility problems
(*) Results can vary from person to person.