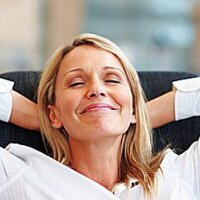 One time or another, we have all heard a variation of that phrase. However, thanks to scientific research, there is an alternative – a new way of aging. You no longer have to age the way your parents or grandparents did.
With the correct protocols, you can look younger on the outside and have a healthier, more functional body and mind for a much longer period of time as you achieve healthy aging and longevity.
Science now understands how the body's aging process operates and how to use diet, exercise and specific nutritional supplements to combat disease and ensure healthy aging.
After the age of 40, the body's biological clock begins to wind down, resulting in certain metabolic changes which increase the risk for many degenerative issues associated with aging. These include arthritis and a general decline in bone health, congestive heart failure, immune breakdown, prostate enlargement, memory loss, cancer and other age related problems.
Many "seniors" also suffer some degenerative loss of skeletal muscle, which can lead to muscle weakness and potential disability. This is mainly due to an ineffective diet with a poor protein intake, and also a decrease in physical activity.
So if the idea of aging and falling apart does not appeal to you, there are powerful, natural ways to deal with age related hassles. Taking positive steps towards healthy aging has far-reaching benefits to health and wellbeing including a better mental function, boosted energy levels and improved cellular health.
Science has now shown that healthy aging and the ability to maintain a highly effective functioning body and mind for the most optimal period of time, must include the use of anti-aging nutritional and herbal supplements, beginning as soon as possible after the age of 40.
These supplements can have a remarkable impact on a person's life as they age. Other proven interventions, such as regular physical exercise, known to preserve and promote lifetime optimal health, will also need to be undertaken.
The combination of these factors, plus a nutrition-rich diet, enough relaxation and participation in social activities, will keep you mentally and spiritually stimulated.
At Solutions to Health, headed by specialist naturopath, Dorota Wroblewska, we thoroughly assess your state of health, before embarking on an anti-aging program, which will include regular exercise.
Your practitioner will introduce you to a new, nourishing way of eating, and give expert advice on which supplements you need, and why. There are specific support nutrients and minerals necessary for both men and women at age 40, 45, 50 and 55.
Our program also includes calcium and vitamin D enriched diets to increase and preserve bone mineral health, especially in menopausal women.
The sooner you participate in our Age Well Program, the sooner you can start to turn back the clock, and ensure a long, fruitful life filled with vitality and energy.
Growing old need not be a disaster or a struggle. Solutions to Health is absolutely able to provide the tools and resources to guide and assist you to achieve your healthy aging and living objectives.
Read more on Healthy Aging
Success Stories: Due to the stress of a relationship break-up and a long back injury, my reproductive system had ground to a holt, so much so, that my body was starting to give symptoms that "seemed" like early menapause, such as hot flushes and bloating, eventhough I had not reached 40yrs. Read More the full Success Story : Glad I found her
M.R. Stanmore NSW