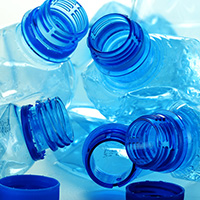 What is BPA?
Bisphenol A, also known as BPA, is a chemical found in hard plastics, and the inside coating of food and drink cans. BPA is used in the making of many products, including water bottles, baby bottles, dental fillings and devices, eyeglass lenses, DVD's and CD's, to name but a few. BPA is a chemical in the environment which can imitate our body's own hormones in a way that could be hazardous for health.
What is Polycystic Ovarian Syndrome?
(PCOS) Polycystic Ovarian Syndrome is a serious hormonal imbalance common to women of reproductive age. The condition is recognised as a complex endocrine disorder with long-term complications if not diagnosed and treated early in life.
The endocrine system is a network of glands that secrete chemicals called hormones to help your body function properly.
How do high levels of BPA affect Polycystic Ovarian Syndrome?
BPA is a chemical which disrupts the endocrine system by interfering with the production, secretion and function of natural hormones, especially that of oestrogen. Your body's natural oestrogen is imitated by what is known as xeno (foreign) oestrogen released into the blood by BPA.
Researchers have reported that women with polycystic ovarian syndrome have a higher level of BPA in the body. The study also showed that there is a close relationship between BPA and the levels of androgens (male hormones) as well as insulin resistance in the system.
High levels of male hormones and insulin resistance is believed to be one of the reasons why you may suffer from PCOS.
Women with Polycystic Ovarian Syndrome (PCOS) and other adverse hormone conditions suffer unwanted hair growth and may have acne, problems with menstruation, trouble losing weight and perhaps even diabetes.
These symptoms are aggravated by high levels of BPA in the blood.
Get your BPA levels tested to treat Polycystic Ovarian Syndrome
If you are still of reproductive age and have been diagnosed with Polycystic Ovarian Syndrome and are not sure what to do, begin by getting your serum BPA levels tested. Next, visit a good health practitioner to assist you with treatment and advice.
I am Dorota Wroblewska ND,BHSc, a Sydney based naturopath, and my team at Solutions To Health, are passionate about women's health. We have a great deal of experience in the treatment and management of Polycystic Ovarian Syndrome (PCOS).
Pay us a visit by clicking on http://www.solutionstohealth.com.au/appointment/ to get YOUR Polycystic Ovarian Syndrome problems sorted out.