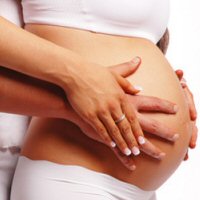 A normal pregnancy lasts about 40 weeks before the happy day of childbirth arrives. The gestation period, or pregnancy, is divided into 3 trimesters, with specific developments for mother and baby during these stages.
Each trimester is roughly divided into 12 weeks, with each trimester having a unique period of bodily changes.
During the first 12 weeks of pregnancy due to hormonal changes, your breasts will become swollen and tender, digestive upsets accompanied by episodes of nausea and vomiting may occur.
Food cravings or aversion to certain foods might arise, and you could also feel unusually fatigued.
Most of these symptoms will begin to disappear during the next 12 weeks, as your uterus and abdomen begins to expand to accommodate the growing baby. Some aches and pains will be normal and you will feel the first fluttering movements of the new life developing.
In the final trimester of pregnancy, as childbirth approaches, feelings of discomfort might arise, as your baby drops lower into the abdomen, preparing for birth. Some swelling of ankles, fingers or face, would be normal before childbirth, although any abnormal swelling might indicate some nutritional deficiencies.
Each trimester has specific nutritional needs, ask your practitioner for advise on correct nutritional treatment protocol.
Many women are afraid of labour, childbirth and the pain they might have to experience. The fact is that with natural childbirth, a pain-free labour and delivery experience will not happen.
Every woman is different, both emotionally and physically. Some are better equipped than others to tolerate more pain, or perhaps have a shorter labour and childbirth timespan. It is important to note that no matter what your individual situation may be, there are many natural ways to alleviate and reduce pain levels.
Remember that verbal, or even hands-on support and encouragement from your partner, can be of great benefit to ensure that your baby is born successfully and gently into the world. If you are a single mom or there is no father of the baby present, then a family member or good friend can step into the gap and give you the support you need.
Although you may feel tired and somewhat weary, it is advisable to start breastfeeding as soon as possible after birth.
Breastfeeding requires patience and practice, and though it happens naturally, it is a skill which has to be learned. Learning stages can become frustrating, especially if baby is born early, or the mother suffers some unexpected health problems.
If it is at all possible, persevere through difficulties. Breastfeeding is very beneficial to both mothers and babies, naturally nutritional and immune building, as well as the ultimate bonding experience between mother and baby. Breastfeeding can help protect your baby from illness and infection and reduce the likelihood of allergies.
At Solutions To Health, headed by Dorota Wroblewska, a renowned expert in all fields of natural health treatments and therapies, we offer extensive support programs for pregnancy, labour and childbirth, as well as breastfeeding and post natal care.
As your pregnancy progresses and the baby develops, the Pregnancy Program will focus on your particular dietary and nutritional needs. We concentrate on each trimester separately, and treat each one accordingly, as each trimester has specific nutrional requirements which your practioner will recommend.
With your health optimised, our Childbirth Support program assists you in the preparation of your body for labour and childbirth. The risk of complications are reduced or prevented, as the time for this life-changing experience arrives.
Our labour preparation phase provides expert advice on ensuring the correct and adequate nutients.
The final phase of the journey is the Post Natal and Breastfeeding Support Program, which promotes easy accepting of breastfeeding stages, leading to a strong connection between mother and child.
Solutions To Health Post Natal Support Program deals with any breastfeeding problems which may arise. We also provide compassionate, qualified counselling and support for post natal depression and anxiety issues.
Solutions To Health have a referral network to every kind of pregnancy specialist, thus ensuring the best preconception care, through pregnancy, childbirth, and post natal issues.
Read more on: Pregnancy Childbirth
Success Stories: My first birth had been long and difficult and I was hoping Dorota's herbs would help speed up my second labour. And speed it up it did! My contractions started at 9pm and Bowie was born at 1am… It was an incredible experience with steady and consistent contractions. I was completely surprised at how smooth my labour was and again I put it down to Dorota and her Partus-prep herbs. Thank you Dorota for your wisdom and guidance, I am eternally grateful.
Read the full Success Story : Trying to conceive for 12 months
C. Morris